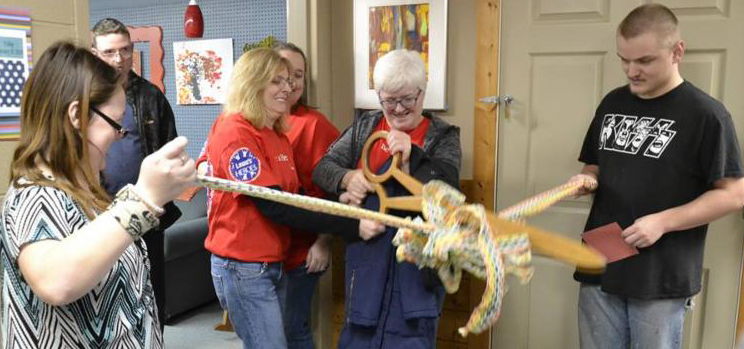 Every gift to Stone Belt makes a huge difference. Contributions go directly toward achieving excellence in client supports, innovation in staff training and development, and the creation of substantive programs that impact thousands of lives.

Our community is stronger when every individual experiences success. Visionary donors help empower people with disabilities to form meaningful relationships, live independently, experience professional employment, contribute to the building of community, and develop new life skills.
Help Stone Belt make our community a better place for us all.
To make an online donation click on the Donate Now button above to make a credit card contribution through Pledge Connect to support Stone Belt's Annual Fund.
To make a donation by mail make your check payable to Stone Belt and send it to Stone Belt, 2815 East Tenth Street, Bloomington, IN 47408.
Tribute and Memorial Funds
Donations can be made through paying tribute to or honoring the memory of somebody, or to celebrate a special occasion. Donors may request to send a personalized acknowledgement, indicating that a gift has been made in the name of someone special.
Simply provide the name and complete mailing address for the individual to whom you would like the acknowledgment sent, as well as the person being honored or remembered. Please indicate whether this is a tribute or a memorial and include your phone number in case we have any questions.
In-Kind Contributions
Stone Belt appreciates the generosity of donors who share material resources—vehicles, appliances, medical equipment, event tickets, clothing, and other items—with the agency. If you are interested in making an in-kind contribution, contact development associate Adam Hamel at 812-332-2168, ext. 269, or e-mail ahamel@stonebelt.org to discuss the items you have in mind.
Donor-Directed Gifts
If you are interested in discussing the directing of a gift to a specific Stone Belt program, please e-mail development@stonebelt.org or call 812-332-2168, ext. 269.
Employer Matching Gifts
Many companies offer an Employer Matching Gift Program as a way to encourage employee charitable giving. Employer Matching Gifts are an outstanding way to increase the value of your gift. Please check with your employer to see if this is a giving option and if Stone Belt's mission meets the criteria set by the company.
To work with Stone Belt to determine eligibility or to complete the necessary paperwork for an Employer Matching Gift, please email development@stonebelt.org or call 812-332-2168, ext. 269.
Membership
All Stone Belt donors are given complimentary membership in the local, state, and national chapters of The Arc.
The Arc—for which Stone Belt serves as the local agency—is an advocacy organization that ardently works to ensure that the rights and abilities of individuals with developmental disabilities are acknowledged and respected. The Arc members receive timely newsletters and updates on advocacy issues, complete with outstanding resources and suggestions for acting on behalf of people with disabilities. As a member of The Arc, a donor's voice moves mountains in the creation of meaningful life experiences for people throughout our community, our state, and the entire nation.