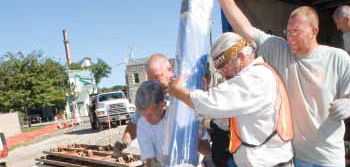 Stone Belt offers Manufacturing Services that give individuals with developmental disabilities an opportunity to work and develop professional skills while providing valuable sub-contract manufacturing to businesses. Our employees are trained in machine operation, materials and small parts handling, sub-assembly, packaging, warehousing, quality control, and industrial hygiene.
Our employees are adults with disabilities. They take great pride in their workmanship, the quality of the products they produce and their ability to provide "just-in-time" delivery. This flexible, fast, and effective workforce is capable of providing outsourcing opportunities for companies who need to control inventory, increase production, lower production costs, or control distribution.
Some of our clients include: Cook Medical, Cook Urological, Oliver Winery, and K & K Sales.
Our capabilities:
Light Assembly Line Work

Product Packaging

Document Destruction

Light Fabrication

To learn more about our Manufacturing Services contact our Director of Manufacturing, Karen Freeman at kfreeman@stonebelt.org

COMPREHENSIVE PROGRAM DESCRIPTION OF MANUFACTURING SERVICES
MANUFACTURING SERVICES FACT SHEET FOR THE CENTRAL REGION (BLOOMINGTON)
MANUFACTURING SERVICES FACT SHEET FOR THE SOUTH REGION (BEDFORD)
LEATHER MANUFACTURING FACT SHEET
Click here to view the audio and text of the Client Handbook.